Getting started with Google Adwords effectively
Sunday, May 24th, 2015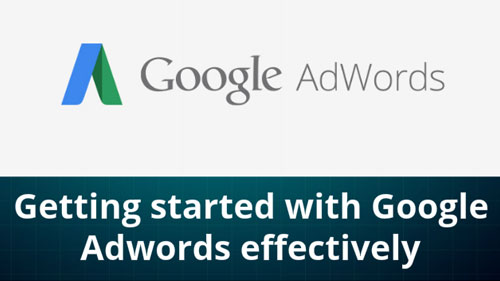 Imagine a scenario where you have put in a lot of efforts and made a website and taken it live. But the traffic to your website stays very minimal. It is every marketer's nightmare. Fortunately, there is a simple solution to it. You could try out an ad campaign using Google adwords.
Now, to begin with Google Adwords may sound scary. It may appear to be an extremely complex system but frankly, there is nothing to be intimidated about. The service has worked wonders for many businesses world over and you can experiment with a minimal budget to see if it works in driving traffic to your website. Getting started with Google Adwords does not require too much set up.
To start off, set up an account with Google and keep a credit card in hand so that you can pay for the ads you create. Your ads normally get divided into campaigns. Each campaign has many ad groups and each ad group in turn has many keywords. You can create a Campaign for your brand and choose where you want to direct the users who click on your ad to. It is ideal to use a combination of search networks and display networks both together. This tends to give a lot more exposure to your ads. You can also customise in terms of which devices to target, which nationalities to target, which pin codes to target etc.
Setting a budget for your campaign is the most tricky part of using Google adwords. Each campaign budget consists of two main parts. There is the Bid and there is the overall budget for every day. The Bid is defined as the amount that you will have to pay for one single click of your ad. It is ideal to always keep this bid at a minimum. It can work against you if your ad turns out to be really popular. Google offers an option by which you can pause your spends.  The overall budget for every day acts as a sort of regulatory body to ensure that your money does not get spent in a single day. This actually sets an amount which will be the maximum amount that you will spend within 24 hours of starting your ad campaign. Once you reach that budget, Google will stop displaying your ad till the next day.  You have to carefully think and plan your budgets for the same.
Google Adwords is nothing but an auction site. You have to bid for keywords like you do at an auction. There are multiple companies bidding for the same keywords. Google finally decides how the keywords will be displayed in search, depending on who has bid the highest. Bidding is tricky and expensive as well. If you do not bid high enough, your brand will be pushed down the ladder to spaces that are not so high in terms of performance. What is worse is that your ads may not show at all till the top bidder's advertising daily budgets have been exhausted.
However, the above few steps are enough to get you started. The good thing about this mechanism is that nothing is sacrosanct and you can change everything as and when you want. It differs for each brand and business and you can only learn by experimenting. Good luck!
If you need free website traffic, sign up to 10KHits today and get 100 traffic points free at https://www.10khits.com/signup!
Filed under: Tips & Tricks
Tags: 10khits, advertising, adwords, adwords advice, adwords tips, adwords tutorial, cpa, cpm, google adwords, ppc, remarketing
---