5 Tips on How to Harness the Benefits of Facebook for Your Website
Sunday, May 3rd, 2015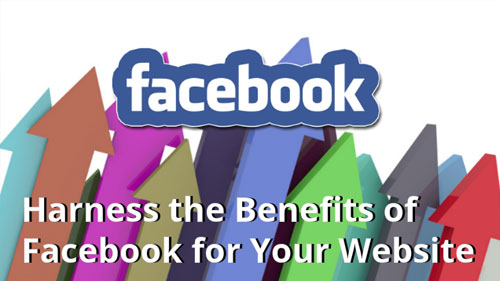 There are a lot of ways you can increase traffic to your website, one of which is to make good use of social networking sites. Since there are plenty of this kind of sites to choose from, you may as well make a careful consideration before allocating your valuable time and resources on any particular site. Speaking of such sites, it is recommended that you go for Facebook. The reason here is that it has the biggest number of members and is thus the most popular social network these days. So, how do you harness the benefits of Facebook for your website?
Arrange Your Profile and Page
Well, first of all, what you need to do is to arrange your profile and page tidily. With Facebook, you are allowed to move around the many boxes you can find on the page, giving you a high level of flexibility. One good idea here, it seems, is to put an RSS feed containing links to your website and place the feed somewhere that is highly visible. This alone can grant you a surprising amount of traffic.
Create a Facebook Group
Yes, it is true that you can possibly find a lot of groups on Facebook. As such, there may very well be a free niche that is suitable for you and your website. So, it is highly recommended that you start up a Facebook group that is relevantly related to your website or business and then start inviting other members on the social networking site to take part in the group you have started. This will benefit you in terms of receiving targeted users, those who have the interest in your profile and what you have to offer.
Write an Extension for Your Facebook Profile
One thing you have to keep in mind here is that this step may not be suitable for every single person out there. However, whenever possible, you should really try to write Facebook extensions. Believe it or not, this will make the profile you have on Facebook become surprisingly popular. Of course, this is bound to increase the traffic to both your Facebook page and your website.
Make Sure You Have Separate Profiles
On Facebook, your profiles are visible to a lot of other people. With that in mind, it is a wise idea that you make separate profiles for your personal and business pages on Facebook. This is to protect your privacy. This is why you will find a lot of Facebook members that have a personal profile page for friends and families and another page just for their business purposes.
Look Out for Some Facebook Apps
This is often neglected by website owners out there. In order to increase traffic to your website, you should actually consider looking for Facebook apps. On Facebook, you can find a massive amount of apps, since newer ones are released periodically. Realize it or not, there are certainly some of the apps that will do you a great favor. Blog Friends and MarketPlace plugins are just a few to name. Some of these apps or plugins even allow you to post on your other social networking sites right from your Facebook page to save you valuable time and efforts. This is known as cross posting.
Are you in need of website traffic to your website or business? Receive free website hits to your site today by signing up to 10KHits!
Filed under: Tips & Tricks
Tags: 10khits, facebook, facebook benefits, marketing, social media, social media marketing, website
---