What is "Manual Actions" in GWT?
Sunday, December 13th, 2015
If you click on the Search Traffic tab on the side bar of GWT, you'll see a link for Manual Actions.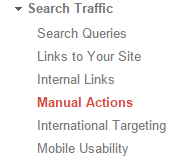 The Manual Actions page is probably one of the most important pages to check on GWT. Manual Actions will let you know whether you have a manual action to take to fix your website for Google. Usually this means that your site has been de-indexed or penalized due to spam, hacked site, hidden text or keyword stuffing, thin content with little or no added value, image mismatch or unnatural links. This could happen if you hired someone to do SEO work for you and they used blackhat SEO methods or maybe your site was breached by a hacker.
After taking the necessary manual actions to fix the problem, such as disavowing links, you can request a review from Google.

Filed under: Documentation→Website Performance
Tags: google webmaster tools, gwt, manual actions, website performance
---