What are intelligence events in Google Analytics?
Wednesday, December 16th, 2015
Intelligence events are automatic and custom alerts you get from Google Analytics. Google Analytics monitors your website traffic for you and will alert you of any significant statistical variations. For example, if your average session duration dropped by 25% today, you'd be able to see that in the daily reports. There are four kinds of reports: overview, daily, weekly and monthly. An intelligence events overview report may look something like this:


There are also custom alerts you can set up. Simply view one of the reports and click the Custom Alerts tab. Click on "New Alert" and fill out the form below.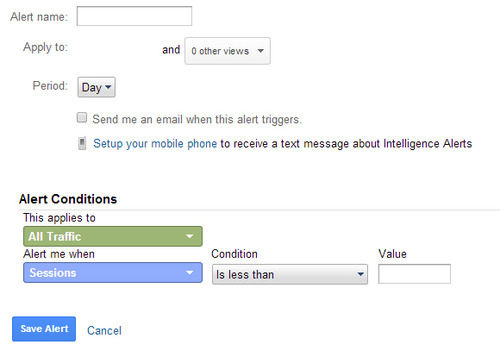 You can also set up e-mail alerts or mobile text message alerts. This feature can come in handy when you want to track whether you're visitors have dropped significantly because of web server issues or if you've received a conversion. It's a great way to be informed about your website and business 24/7.
For more information on intelligence events, you can watch this video:

Filed under: Digital Analytics→Documentation
Tags: automatic alerts, custom alerts, digital analytics, Google Analytics, intelligence events, web analytics
---