The Aspect of Online Content Marketing in 2016
Friday, September 23rd, 2016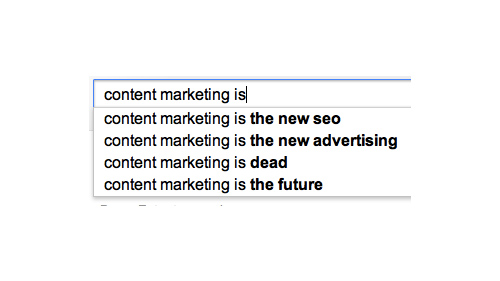 Internet marketing is a very dynamic concept. On the other hand, some things tend to remain the same. The aspect of content marketing is 2016 has brought in many changes that promise to change the internet marketing landscape from now onwards.
Content marketing is garnering more popularity when it comes to business-audience relationship building. As a result, any business looking to do meaningful internet marketing campaigns should ensure that they consider content marketing in their strategies.  Here are some content marketing strategies that are trending in 2016 and promise to be around longer;
User-generated content
Content that appeals to customers is one that has been developed by factoring in among other things the client's mindset. It will be so authentic that your audience cannot fail to be engaged. By getting customers to generate content that can be posted on your website, social media network or even their social media account not only builds trust for your brand but also ensures that customer's personality and perspective is attached to the business, brand, and products.
Engaging episodic content
Episodic content is a sure way to keep your audience engaged. The content is relayed in bits through a given period; this brings suspense and makes the audience look forward to coming back to get more. We all originate from the episodic content without realizing it, but one thing is for sure, it sparks curiosity about a business and brand. Podcasts are a nice way to present episodic contents to your audience.
Incorporate SEO
The days when content marketing and SEO were strange have ended. Content marketing and SEO go hand in hand in that, the demand created by SEO is fulfilled by content marketing; this means that when your website is optimized to achieve favorable rankings, appealing content will, in turn, engage site visitors and facilitate conversions.
Other than SEO playing a crucial role in showcasing great content, great content is one of the hallmarks of successful SEO. Search engine analytics report sites with well- organized and relevant content, which are some of the criteria used in ranking.
Bigger budgets
Since content marketing guarantees return on investment, the remaining half of 2016 will see marketers set aside more funds for content marketing. Research shows that content marketing is an effective way to draw traffic to websites. However, it takes money to generate engaging content in the form of images, videos, audio and text.
The place of social media
Little internet marketing can be done without social media, more so in content marketing. Social media has an undeniable power to create networks, establish brands. More and more businesses and marketers are set to use various social media platforms to reach out to more people. Social media are not channels for businesses to drive traffic to their websites, but they are in themselves useful campaign tools; this being as it may, the use of social media in content marketing is going to soar so why not adopt and leverage it for your business?
Wrapping it up
It is already the middle of the year, and content marketers are not only counting their blessings but also working out better content marketing strategies. Keeping up with content marketing trends will ensure that businesses remain relevant on the online domain and stand out from competition.
If you need free website traffic, sign up to 10KHits today and get 100 traffic points free at https://www.10khits.com/signup!
Filed under: Tips & Tricks
Tags: 2016, aspects, content, content marketing, online content marketing
---