If you click on the Crawl tab on the side bar of GWT, you'll see a link for Sitemaps.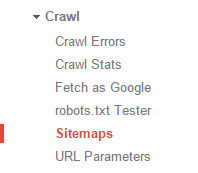 Sitemaps helps search engine bots crawl and categorize your site better. If you have a sitemap or multiple sitemaps for your website, you can add them on the Sitemaps page of Google Webmaster Tools.
There is also the option to test your sitemap for errors.
On the Sitemaps page you'll find the amount of webpages submitted from your sitemaps the the amount of webpages indexed by Googlebot.