You can check your PayPal or Payza account to see whether your subscription has been cancelled. There are numerous reasons why your subscription may be cancelled.
Here are few reasons:
• You've recently upgraded your plan from Pro to Business (Pro subscription will automatically cancel).
• You forgot to pay for your subscription when it was due.
• You decided not to continue with the subscription and cancelled it manually through PayPal or Payza's system.
• You closed your 10KHits account.
You may also visit the History tab on the left sidebar of the dashboard.
Under the Billing History section, by the date of your purchase you will see an X icon similar to this.


If you place your mouse over the icon you will see "Subscription was cancelled. Your next month will not renew."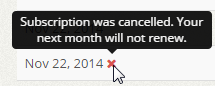 Remember that it is your responsibility to cancel subscriptions or renew subscriptions on your own. We will not refund subscriptions that are already paid more than 7 days ago.