What is "Fetch as Google" in GWT?
Sunday, December 13th, 2015
If you click on the Crawl tab on the side bar of GWT, you'll see a link for Fetch as Google.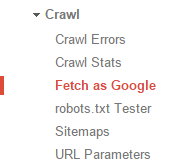 Fetch as Google is probably one of the most important tools for a blogger or a website that releases new content every day. If you have new articles or pages on your site that were just published by you or your team of writers and needs to be indexed by Google immediately, use the Fetch as Google tool. Paste the link to article there and click "Fetch".
When the status changes to "complete", you'll see a button by it called "Submit to index".


Click the "Submit to index" and you'll have the option to make Googlebot crawl only that URL or crawl that URL and its direct links. Checkmark the one you think is suitable and click Go. In a few minutes, your page will be indexed on Google.
You want to be the first to have your news indexed by Google so that it can be listed at the top of the results. Sometimes when the news is a hot enough topic, you may find a big spike in organic visitors.
Filed under: Documentation→Website Performance
Tags: fetch as google, google webmaster tools, gwt, submit to index, website performance
---