How do I expand/collapse all of my website campaign panels?
Tuesday, December 15th, 2015
At the top right of the Websites page right below the +Add Site button, you'll see a link called "expand all". Click that link to expand all panels for your website campaigns. To collapse all the website campaign panels, click the "collapse all" link.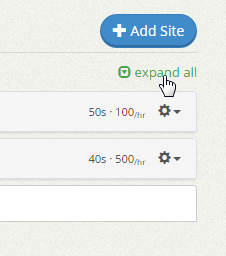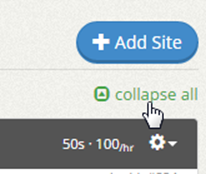 Filed under: Documentation→Getting Started
Tags: 10khits, campaign, campaign panels, campaigns, collapse, collapse all, expand, expand all, getting started, panel, panels, URL panels, website, website campaign panels, website panels
Disclaimer: This information is intended for informational purposes. Some information may not be accurate or current and are of the author's opinion (not 10KHits). It's not meant as financial, investment advice, a recommendation regarding a course of action or legal advice.
---