How do I aggregate data in Google Analytics with grouping?
Wednesday, December 16th, 2015
Grouping allows you to aggregate data together so you can analyze the collective performance. There are two kinds of grouping:
1. Channel Grouping
2. Content Grouping
Channel grouping is a collection of common marketing activities such as display, social, email and paid search. By default, Google Analytics will set a Default Channel Grouping with Direct, Organic Search, Social, Email, Referral, Paid Search, Other Advertising and Display. To add a new channel grouping, go to "Admin" page, select the view you want to add channel grouping for and click "Channel Settings". Click "Channel Grouping" and click the "New Channel Grouping" button. Let's create a channel that will keep track of the pages we promote on 10Khits and call this channel 10Khits like so: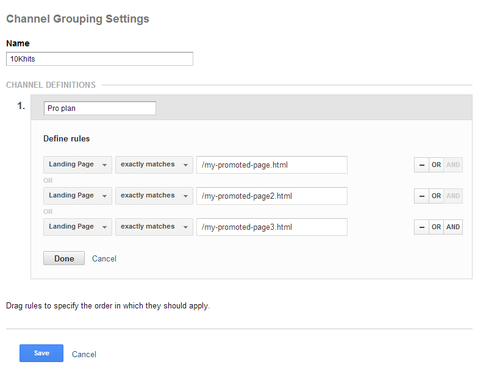 Content grouping is like channel grouping. To add a content group, go to "Admin" page, select the view you want to add content grouping and click "Content Grouping". On the next page, click "+ New Content Grouping". If you're an e-commerce site, you might want to group your product pages together like this into a group called Products.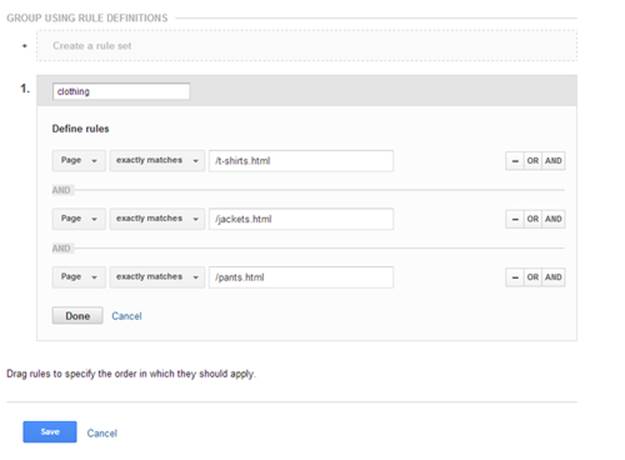 There are 3 ways to group the content: by tracking code, by extraction or by rules. Tracking code allows you add a single line of code that identifies the content index number and the Content Group for the content. Extraction uses regular expression to identify a full or partial URL, page title or screen name. Rule definitions are used to create simple rules that identify your content.
Filed under: Digital Analytics→Documentation
Tags: channel grouping, content grouping, digital analytics, Google Analytics, grouping, web analytics
---