Top 6 Social Media Marketing Tool You Should Use in 2016
Tuesday, April 26th, 2016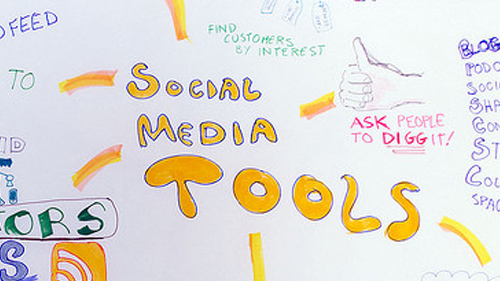 The use of social media platforms took off like a rocket and continues to increase with every passing day. Social media is where many individuals have interest in and visit offers a perfect opportunity for marketing. For social media marketing to be successful, however, it has to be approached with a sober mind and all tools that can increase efficiency must be used to increase the success rate. With that in mind, below are six of the social media marketing tools to be aware of.
Hootsuite
When it comes to social media marketing management, hootsuite is definitely first in line. It has everything that a social media manager desires and includes monitoring, report generation and publishing. Hootsuite  shows all social media accounts in different streams which differentiates it from other tools such as Sprout. Moreover, hootsuite offers a mobile app to be able to keep up with your social media accounts and streams on the go.
Sprout social
For those who prefer a unified display of all their social media accounts, then Sprout social is the answer. It offers good reports for various social media accounts and displays keyword searches that are monitored  plus social content in a single stream. It also offers a mobile app and the ability to schedule content to be posted with a reliable system of publishing making it one of the top management tools.
Buffer
Buffer introduced social media publishing before others had any clue. Buffer was the initial software to come up with the queue system of publishing that allows scheduling of content on different social media networks without having to expend energy to schedule individually. In a nutshell, it is the best system of publishing to be found out there. Moreover, it covers most social media platforms. Initially, they did not support Instagram but they now do. Buffer has various paid subscription plans but it includes a free plan.
Post planner
Post planner offers a publishing solution for twitter and Facebook specifically. They might have increased supported social networks but they mainly concentrate on the two. It gives one the ability to queue posts or schedule them for posting at specific times. Post planner has a unique feature dubbed "viral content" which allows one to see the viral content such as videos and photos hence availing an individual the chance to use such  content on personal accounts to improve engagement. Its pricing commences at $9 a month.
Sendible
Sendible has one big advantage, the fact that it supports over 30 networks. Sendible has services for messages, content discovery, blog promotion, social contacts and social content, profiles, accounts, analytic services and monitoring. It has a paid plan for agencies.
Agorapulse
Agorapulse is basically a social media toolkit supporting Twitter, Instagram and Facebook. It supports customizable reports, monitoring, one-click and CRM and contest applications. Agora pulse delivers the social content in an inbox which is sort of like an e-mail and features real time syncing of accounts.  It also retains previous data and conversations from followers and fans of the accounts. It charges $39 a month and above depending on the package chosen
Does your online business or blog need more visitors? Find out how to get free website visitors at 10KHits!
Filed under: Tips & Tricks
Tags: 2016, agorapulse, buffer, hootsuite, post planner, sendible, social media, social media tools, sprout social, tools
---