Tips on Funding a Start-Up Business
Monday, September 14th, 2015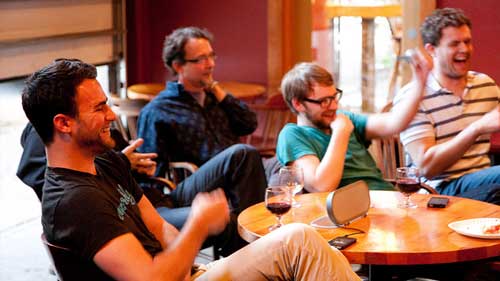 If people had to save for a long time to get enough money to found their own business in the old days, this is no longer the case these days. Thanks to the internet, people can always get funding from numerous sources and start their very own start-up business. However, in order to be able to gain any funds from anybody, they should first learn how it will be possible for them to talk other people into helping them fund their business. So, perhaps those thinking about building a start-up business can check out the following tips.
Meet As Many People As Possible
Like it or not, a person whose intention is to build a start-up business of his own should always use his capital first. Then, to help him found his business, he can also ask for help from families and close friends and relatives. However, most of the time, even with help from families and relatives, the funds collected will usually not be enough. Therefore, a person should meet as many people as possible in order to collect enough funds to build his business.
Put the Money Exactly on the Dream
It is true that it is often worrisome when a person needs to take out his own personal savings to fund his business. However, believe it or not, nearly all successful entrepreneurs do this in order to realize their dream of ever building their very own company. Some of these people have now even become the founder of multi-million-dollar companies.
Take Advantage of Pre-Ordering
At first, investors may not have any interests in funding a business, especially if all there is available is a prototype, or much less, an idea. This is when pre-ordering often comes in handy. With pre-ordering, a person may be able to receive the capital he needs from outsiders while at the same time having the chance to validate and also test just how sellable his idea is in the market.
Try to Offer a Unique Value
Most of the established companies in existence out there prefer long-term to short-term contracts. Therefore, it is utterly important that a person trying to build his own start-up business tries to offer something of unique value. Take RackSpace for an example. During its initial launch, this hosting company offered unique payment model, a monthly basis. In addition to that, it also promoted its customer service commitment in an aggressive manner.
Investors Like Milestones, Not Products
It is true that a person with a business idea has to have a clear vision of what his product is going to be. However, that person should not follow in the footsteps of most investors out there and repeat their mistake. A person whose intention is to build his own business should keep in mind not to sell investors his products. Instead, it is best for that person to try and sell investors checkpoints and milestones. Doing this will help that person earn confidence from investors. This is because the investors see that the person has a clear vision in addition to a solid execution path. Additionally, this also holds that person accountable. Yet, if the funds received in total are still less than expected, the person will have to bootstrap his business until it grows bigger in time.
Get free website traffic today with the leading traffic exchange at 10KHits!
Filed under: Tips & Tricks
Tags: 10khits, business, funding, online business, seed funding, start-up fundings, startup
---