Not a Geek: Why Drag & Drop Web Builders Are The Answer
Monday, December 3rd, 2018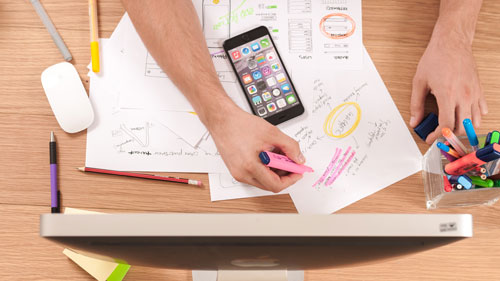 Building a website for a non-tech savvy person is usually a scary thought, one which makes people break out in a sweat. You might be thinking that I need to know some sort of coding to do it right or take a big hit on my wallet to hire a professional. You need not worry much because in this society with an answer for everything, you can make a website and have it up and running in no time yourself.
What Are Web Builders: Tools which help you make a website without the use of code editing are web builders. Web builders usually offer various templates that can be edited and content can be added according to your needs. One of the common misperceptions is that web builders will result in cheap looking or outdated websites. That is not at all the case. Web builders are mostly used by small businesses, freelancers, photographers and startups to set up professional looking user friendly websites.
Types of Web Builders: There are two main types of web builders' namely:
Online: This type is the most prevalent one and is completely online based. These are stored on the providers' servers. No need to buy and install new software, usually you get web hosting services from the same provider thus lesser hassle. We will be focusing on these type of web builders only.
Offline: Like the name suggests, these website builders need to be installed on your computer and used. It gives you the flexibility of working offline and you are less dependent on a single provider.
Why Choosing Web Builders Is Smart:  If the above text has not already convinced you to go for web builders, these points will:
Simplicity: They make life simpler. To use a website builder, you do not need to know even a single line of code or any programming. Most of the web builders are drag and drop editing programs where if you like something, you drag it to the place you want and drop it. Voila. Done.
Time Saving: With web builders, you can have a website up in minutes and if you feel that it isn't working, you can always go and edit it completely in no time.
One Solution for Everything: You get everything you need for a website in one package, from domain name to web hosting. Everything is in one place, making the management easier. If you run into problems, all answers are in one place.
Updated And Comprehensive: Most of the providers, at least the good ones are constantly trying to stay ahead of the curve and keep their software, security updated. They also offer you multitudes of features according to your needs and these days, most of the providers offer mobile friendly interfaces.
Saves Money: Some of these things are either cheap or at times free as well. If you get everything from one place, web builders are included in the price of web hosting.
Need a traffic boost for your website or blog? Get free website visitors to your site today at 10KHits!
Filed under: Tips & Tricks
Tags: drag and drop, free website traffic, web builder, website builders
---