Marketing your product on Tumblr
Wednesday, May 27th, 2015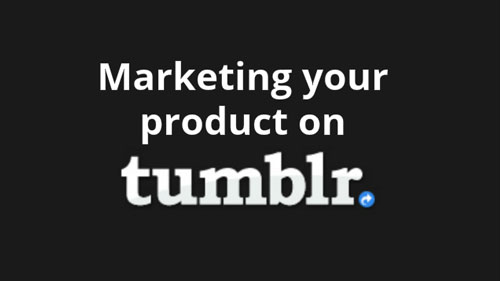 In the world of content marketing and social media, the most favorite children are Facebook, Twitter and LinkedIn. These were the platforms the world of social media began with. However, as the digital world is reaching new milestones, newer platforms are coming into the picture. One of the least spoken about platforms is Tumblr. Tumblr is a network that involves integration of both photos as well as videos. It is very useful if you want to reach out to a niche demographic.
Tumblr boasts of more than 35 billion users. Majority of the users are under the age of 25. The other social media platforms have audiences ranging over multiple age groups. This makes Tumblr slightly special as it offers a unique and niche demographics for marketers to connect with. Videos and photos have always proven to work better than text. Also, Tumblr has recently come up with ads that appear on the page as highlighted posts. Big brands like Adidas have taken to the platform and started running full fledged campaigns on it.
Let us look at the top 3 tips that can help you market your content successfully on Tumblr.
1) Select your content wisely – If you are offered an option between promotion of a video of your brand or a photo of your brand, it may be better to post the photo on to Tumblr. You can always promote the video on another platform. Another format that is a big hit on Tumblr is essentially recycled content. You can pick up a few frames from your own video and use it to create an animated gif image. Take into consideration what formats are likely to be more shared by your Tumblr fans. The content that people normally come for, to Tumblr is not the same as the content that they hope to see on Facebook and Twitter. They want something different so make sure you do give them what they want.
2) Interact with your consumers – Follow your consumers back. This is very important. It gives the brand a nice perception in the minds of the consumer. They feel that the brand is really listening to them, cares about what they say and responds to what they say. Unlike Twitter, where many brands do not like to follow consumers back, lest it affects their perception, there is so such issue with Tumblr. The settings here do not normally display the following count. Hence brands on Tumblr can easily follow back their customers and have a one to one conversation with them. It will help you to understand your consumers better and will also let you see what content is being put up by them. You could also allow your consumers to create their own perceptions of your products on Tumblr. This will help bring out a sense of belonging and community building. It helps them voice out what they think and helps you understand the same.
3) Always ensure that you put up highly emotional content that appeals to your customer and elicits a response from them. You could choose to cater to emotions that make them happy or inspire awe or scare them or surprise them.
Having said that, Tumblr may undergo a lot of changes in the near future. However, one of it will affect the importance it has to play in your marketing mix. It is a platform that has to be used well ad it can give you the most amazing results.
Need a traffic boost for your website or blog? Get free website visitors to your site today at 10KHits!
Filed under: Tips & Tricks
Tags: 10khits, blog, blogging, smm, social media, social media marketing, tumblr
---