How to Increase Traffic to Your Website
Wednesday, June 3rd, 2015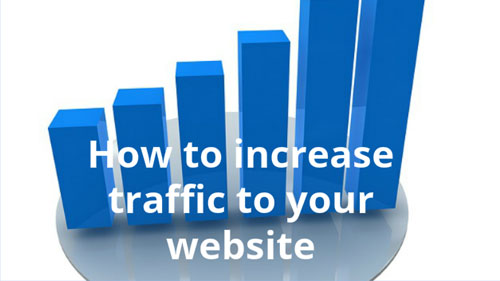 Every marketer's aim is the same when it comes to his website. He wants his website to get maximum traction and wants loads of people to visit his site. There are so many ways to make sure that the traffic to your website goes up. The mandate of course is that you need to have content that is relevant, interesting, unique and original. This in itself should guarantee an increase in your website traffic naturally. However, there are lots of small things that you can do that will give an additional push to increasing traffic on your website.
Let us look at a few such things that can help boost traffic.
A good headline is a must. Headlines are the first and foremost things that catch the attention of the readers. Unless you make it really interesting, they will not go beyond the headline. In fact, when the article is shared, the headline is the only thing that is seen. The headline has to draw the attention of the reader and hook him. It has to be relevant, unique and interesting. A really good headline will help in increasing the traffic to your website especially when it gets shared on different social platforms.
Articles written should consist of good content. The better the quality of your article, the higher it gets ranked when it comes to search results. The articles on your website have to be relevant to your audience. They have to cater to some or the other needs of your audience. Your audience must find the solution of all their problems at one destination (which in this case is your website). You must give them something that no one else is giving them or at least your information should be much superior in quality. Please ensure that your content is genuine and not copy pasted from another website else the search engines will definitely detect the same and you will get pushed way down the ladder of consideration sets when a search is run.
It is also important that the content you create is sharable. This will ensure that your readers act as advertisers for you and spread the word for you. Ensure that along with an interesting headline, the introduction to your article is also as intriguing and captures the attention of your audience. This will make the article sharable on social media networks like Facebook, Twitter etc. Also keep in mind that you put up new articles consistently and your article lengths are kept varied. You also have to add the relevant tags to your article for them to be search friendly. Use high quality, original visuals. Have videos on your website. Also have all your social plugins on your website.
Try and see if there is some niche in your field that has not yet been addressed or a niche where information is still at a very nascent stage. Address such niches. Create original content for such niches and become the expert here. This will lead to the readers going first to your website when they are looking for information in that particular niche category.
While there are multiple other ways of generating traffic to your website, these few should be more than enough to get you started.
If you need millions of visitors to your website, sign up to our traffic exchange today at https://www.10khits.com/signup.
Filed under: Tips & Tricks
Tags: 10khits, free web traffic, increase traffic, increase web traffic, website traffic
---