Exploring the world of Pinterest
Thursday, May 21st, 2015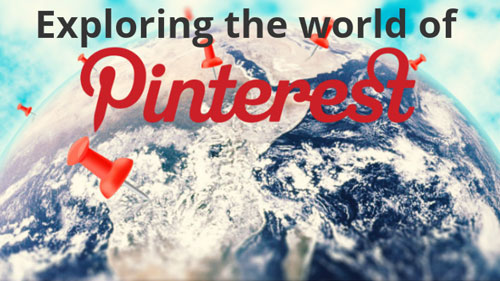 One of the most visual platforms to have hit the digital era, Pinterest offers a large variety of pictures to all its users. So much so that Pinterest seems to have replaced Google when people actually search for good looking images.
Let us look at a few tricks and tips that will help in marketing your products better on Pinterest
1) Make sure price tags are included. Pinterest users visiting your pin boards are not looking only for an attractive image. Many of them are ready buyers. If you are advertising a product, ensure that you have a price tag included for every pin and repin. Statistics show that Pinterest pins having price tags actually garner around 35 percent more likes as compared to those pins without the price tag. Yes, Pinterest is a platform where attractive visuals matter but ultimately as a marketer your aim is to drive people to purchase your product.
2) Create relevant boards. Make sure that pins of one kind are grouped into one board. It makes it easier for your followers to know which board to check if they are not interested in looking at all the content put up by you.
3) Make sure you promote your Pinterest presence. Users are not likely to just come across your Pinterest board and follow you. Put in some effort in cross promotion of your Pinterest account on other social media platforms. There is no need to spend huge advertising budgets on the same.
4) You should track the pins put up by your competition. People who normally pin items from your competition boards fall in your target range as well. Hence you would like them to pin up items from your boards as well. You could use Pinalerts for the same. It is nothing but a simple applicationthat allows you to set alerts that track when people are pinning up items from the boards of your competitors. This can help you track who these people are and then you can exclusively market your product to them. You could see how many followers, pins, repins etc they have on their profile and follow them. It is very likely that they will follow you back and repin your content as well.
5) Drive traffic with blog boards
Ensure that you create a specific board on your Pinterest page only for your blog articles. This makes it really simple for the people who follow you on Pinterest, to find your blog, learn about it and if they are interested, they may follow your blog as well. Also, make sure that both the pages have a similar identity if not the same. Keep the heading/title of the blog board on Pinterest, the same as the actual title of your blog.  Also make sure that you use the right and relevant keywords in your Pinterest blog board name. This will make the board throw up more quickly on search results.
Thus, Pinterest as a medium is not only effective for your brand but also a lot of fun to work with. If used correctly, it can lead to a huge success in your content marketing mix for you. After all – A picture is worth a thousand words…..and maybe more in the digital world!
Are you ready to boost your website traffic for free? Sign up for free website traffic at 10KHits!
Filed under: Tips & Tricks
Tags: 10khits, pins, pinterest, social media, social media marketing
---