4 Easy yet Effective Tips on Instagram Marketing
Monday, April 20th, 2015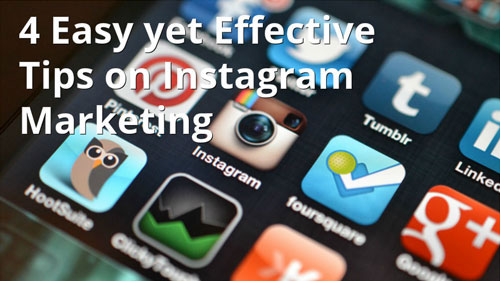 It is true that you can choose from a great number of social networking sites out there to date if you intend to sell your products online. Although one may differ from another, Instagram is an ideal marketing platform to go for. One of the reasons is that it has an enormous number of members. But then again, the same thing can be said about other social networking platforms out there. However, Instagram is kind of different since it mainly focuses on images to say things. In order to successfully market your products by means of Instagram, you may want to try the four easy tips below.
Showcase the Products You Want to Sell
First of all, you need to showcase your products. To do that, you will first have to take images of your products. Yet, before you do that, you need to make sure that you have set up a visually appealing and unique environment. Better yet, you can even showcase some examples of the best ways to use those products of yours.
Overlay Details and Pricing
If you are serious about selling your products on this particular platform, using a third party app will prove to be a great idea. You can use the 3rd party app to overlay details and pricing information related to the products you are trying to sell. You can also place some small banner with the corresponding price on the products you sell. This way, you are making sure that your potent customers realize those items are for sale even if they happen to miss the caption of the products entirely.
Use a Good Description
While marketing a product, it is crucial that you give the product a good description. Most of the time, this will largely depend on your goals, your voice, your brand and the products you are offering to your customers. Sometimes, you may even use a story to explain about the products you sell. If you choose to do so, you can include the prices of the product, limited availability information and stuffs like that as well. One thing you have to remember here, though, is to utilize the caption such that it entices people to make a purchase on your products. Don't forget, either, to tell your potent buyers about where they can get the products.
Utilize Your Profile Page Hyperlink
As of this moment, you may not be able to use hyperlink in too many places on Instagram. However, you are actually allowed to use a hyperlink on your profile page. With that being said, you can consider placing a hyperlink within your bio and make sure that the link goes to where you want your potent buyers to go, the sales page of your products. One rule of thumb here is to make sure that whenever anyone happens to click the link on your profile page, most likely after taking a look at the products you are offering for sale, they will be immediately redirected to the proper product page. Keep in mind that easy navigation is always better than long and difficult navigation.
If you need free website traffic, sign up to 10KHits today and get 100 traffic points free at https://www.10khits.com/signup!
Filed under: Tips & Tricks
Tags: 10khits, advice, instagram, instagram marketing, marketing, smm, social media, social media marketing, tips
---