10 Tactics to Increase the Number of People That Visit Your Brick-and-Mortar
Tuesday, April 26th, 2022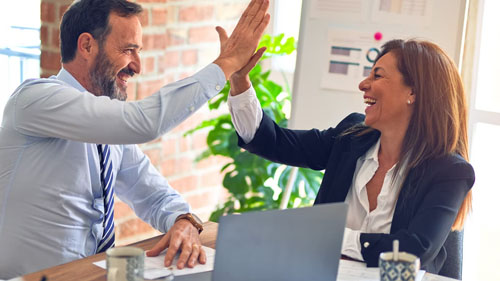 Retailers are struggling to keep up with the rapid growth of e-commerce.  They are left in a vulnerable position without being able to compete against larger retailers who have all of their inventory available online. A well-designed website is a great way to show customers what you have to offer and increase the likelihood of someone visiting your brick and mortar. But if your website isn't attracting potential customers, it might be time for a new strategy to reach out and grab people off the internet by their eyeballs. And this is where we come in!
There's no way we can guarantee that any one tactic will attract visitors right away or work for every business, but you can buy cheap web traffic or everyone could likely benefit from at least ONE of these ten tactics:
Social Media
Just using social media as a place to post pictures and updates about your business probably won't drive many people over to your store. However, having an active presence on Twitter, Facebook, Instagram, and LinkedIn could help you stay relevant and reach a new audience.
Write Articles for Local Publications
If someone reads an article you've written, they may be more inclined to visit your brick and mortar if it sounds like something they'd be interested in. It might even turn into a customer who becomes a regular! This tactic can take some time and effort, but it's definitely worth it. Note: If the publication won't allow links back to your website, including social media links so people can keep up with what's going on online.
Get Press on Your Website or Social Media Pages
Getting press coverage is great because anyone who sees that press will know that other sources (the news outlet) confirm that your product is actually worth looking into! People want to feel like they're buying something that's actually worth it, so this type of press can help with that.
Invite Customers To Leave Reviews Online
Positive reviews on Google My Business, Yelp, etc. are always great for drawing people in because it helps establish trust between you and potential customers. If someone sees a few good reviews (with good ratings), they may be more inclined to check out your website or visit your brick-and-mortar location!
Organize an Event Or Contest
If there's some way you could get the word out about what you're doing in person, it would probably turn some new customers onto your business. Whether it's hosting an event at your location or having a contest to see who can bring the most customers in, it's likely something that will help get people talking.
Make Sure Your Website Works Without Flash
Flash is awful for search engine optimization (SEO), so if you want your website to stand out and rank well on Google (or any other search engines), make sure you use HTML5! If your site isn't working without Flash, then potential customers may not be able to visit it and learn about all of the awesome things your business has going on.
Improve Your SEO For Local Search Engines
Improve the amount of traffic that comes to your brick and mortar just by improving how well you show up on search engines like Google and Bing. Essentially, you can make sure that when customers are looking for something local they'll see your business come up first. That's your goal!
Get on Google My Business
Even if you have a very small customer base, it still helps to get on Google My Business so that new people who search for things in the area will find you. It shows what type of products or services that your business offers and helps establish trust with potential customers because it indicates that other people have found success working with you!
Add Your Phone Number On Your Website
Don't just rely on email addresses to capture new customers — use your website as another way to connect with people who might be interested in checking out your brick and mortar location. List all of your contact information on your website so that people who are browsing don't have to go digging for it.
Update Your Products And Services Pages
Just make sure you keep all of the products and services pages on your website up-to-date, because outdated content can lead people to believe that you aren't offering what you actually do anymore! If someone goes to a page looking for something they used to have available but now see that it's no longer there, they're likely going to leave and not come back.
Remember: What works for one business may not work for another, so just pick ONE thing from this list that you think would be best suited for YOUR business to try out! You never know — it COULD lead to a huge increase in your business's traffic.
Filed under: Tips & Tricks

---