Where is the site id for my website?
Tuesday, December 15th, 2015
You can locate the site id of your website by expanding the website campaign panel. At the top right just above the Geo-targeting box there will be the site-id of the campaign. It is in a small gray font.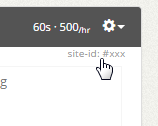 Filed under: Documentation→Getting Started
Tags: 10khits, campaign, getting started, id, site, site id, website
---