What is "URL Parameters" in GWT?
Sunday, December 13th, 2015
If you click on the Crawl tab on the side bar of GWT, you'll see a link for URL Parameters.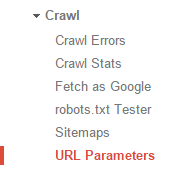 URL parameters helps Googlebot crawl your website more efficiently by removing duplicates and saves bandwidth. More than likely, you won't need to do anything with URL Parameters. This is an advance feature that is described in the video below:

Filed under: Documentation→Website Performance
Tags: google webmaster tools, gwt, URL Parameters, website performance
Disclaimer: This information is intended for informational purposes. Some information may not be accurate or current and are of the author's opinion (not 10KHits). It's not meant as financial, investment advice, a recommendation regarding a course of action or legal advice.
---