What is geo-targeting?
Tuesday, December 15th, 2015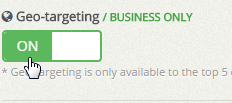 The geo-targeting setting lets you receive hits from the top 5 countries in our network. If you want to receive traffic from United States only, simply check mark the box and toggle geo-targeting to ON. You can checkmark multiple countries as well. When you're done, don't forget to save the changes!
Filed under: Documentation→Getting Started
Tags: 10khits, geo-targeting, getting started
Disclaimer: This information is intended for informational purposes. Some information may not be accurate or current and are of the author's opinion (not 10KHits). It's not meant as financial, investment advice, a recommendation regarding a course of action or legal advice.
---