How do I create my first campaign in Google Adwords?
Wednesday, December 16th, 2015
After you have logged on to your Adwords account, click on the orange "+ Campaign" button to add your first campaign.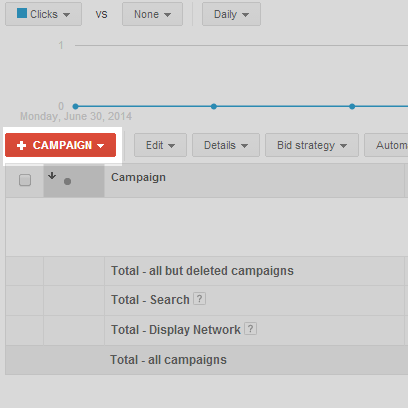 You can choose which network you want to target. In our example, we'll choose Search network so that our ad will show on Google search. There are also display network which will show your ads on partner sites. You can also use the other options available but we recommend starting your campaign with Search or Display only.
The next steps are listed below in order:
1. Give your campaign a name.
2. Select the campaign type. It's good to keep it at Standard.
3. Select network. Including search partners is ok.
4. Device compatibility will automatically be detected so you can skip this step.
5. Which locations do you want to target or exclude? I'll check United States.
6. Select the languages you want to target.
7. Choose your bidding strategy. For now, we can set it for "I'll manually set my bids for clicks".
8. Set a default bid (max CPC). You should set a default bid so that you don't pay too much for a click.
9. Set a daily budget. How much are you willing to spend per day?
10. Finally, you can add ad extensions so that your ads look more appealing/contains additional information.
Click the "Save & Continue" button. Congratulations! You have created your first campaign! The next process is creating your first ad group.
Filed under: Documentation→Search Engine Marketing
Tags: ad campaign, adwords, search engine marketing
---