How do I check my surf history?
Tuesday, December 15th, 2015
To view a report of your surf history, click on the "History" tab on the left sidebar of the dashboard after logging into your account.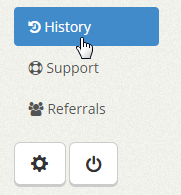 At the top of the history page, you'll find a table for surfing history. Here it will list the site # and URL of the last 10 pages you've visited on our network. This is a great way to revisit a page you recently visited or to report a page that is violating our terms of service.


Filed under: Documentation→Getting Started
Tags: 10khits, getting started, surf history
Disclaimer: This information is intended for informational purposes. Some information may not be accurate or current and are of the author's opinion (not 10KHits). It's not meant as financial, investment advice, a recommendation regarding a course of action or legal advice.
---