How do I add my website to GWT?
Sunday, December 13th, 2015
Visit https://www.google.com/webmasters/tools/dashboard and click on the Add site now button.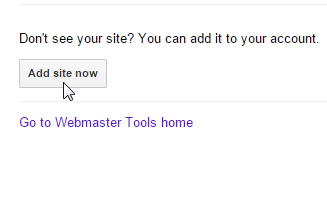 Type in the URL of your website and click continue.
Verify that you own the site by downloading the HTML verification file and uploading it to your root folder. Once you have uploaded the file, click on Verify.
Filed under: Documentation→Website Performance
Tags: google webmaster tools, gwt, website performance
---