Website Load Speed Key to Successful Rankings in Google (and More)
Tuesday, May 3rd, 2022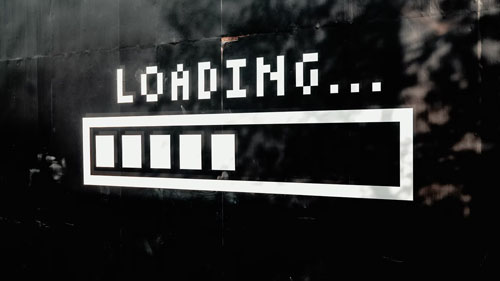 Do you know how page load times affect your rankings in Google? If not, it's time you found out. Ranking higher means more exposure and more traffic to your site! And if that weren't enough incentive already, there are other benefits of high search engine ranking. For one thing, the higher up on the list you rank, the less work it takes for people to find you. A study by Experian Marketing Services showed that when a person searches using keywords related to your business, they're twice as likely to visit pages ranked at or near the top than those at or near the bottom of the first 10 results shown on their screen.
Here are three reasons why web hosting plays an important role in SEO:
1) Faster Load Times Attract More Users
2) Google and Other Search Engines Rank (and Penalize) Sites By Speed
3) Some Hosting Plans Are Better Suited for SEO than Others.
Luckily, you don't have to be a tech expert to understand what you can do to speed up your site rankings — we'll give you the full rundown in just a bit. First, let's look at how hosting affects your site performance.
What is Web Hosting
How does Web Hosting Affect Your Website Performance
Why are Page Load Times Important for SEO
Ways to Improve the Speed of Your Site
Tips for Choosing a Web Host
What is Web Hosting
Web hosting is an internet service that allows you to host web content on servers, which are typically housed in data centers. Web hosting creates a space for your website files to live on the internet.
There are many different types of web hosts, but they require the same thing to function at their best: high-speed internet. Any time one of these elements is compromised, performance will suffer. To make sure your site performs well, make sure you have a high-quality internet connection and enough bandwidth/data transfer limits for the site's needs.
Web hosting services include domain registration and management, data backups, security, server software licensing, email support availability, customer service availability and more.
How does Web Hosting Affect Your Website Performance
Web hosting affects your website's performance in many ways. First, the quality of your internet connection will play an important role in how quickly your website loads. A slow connection means sites will take longer to load and users may get frustrated with these long wait times. This can be especially frustrating for users on mobile devices who are often met with high data charges when sending you more traffic. Make sure your internet provider offers fast access to keep things speedy for all of your customers.
Second, Google and other search engines have a say in how quickly a website loads because page loading times affect site rankings—but this isn't all bad news! A study by the Aberdeen research team found that a one-second difference in a page's loading time can result in a 7% reduction in conversions. This makes sense considering that the average person only has a very short attention span and will quickly lose interest if your site takes too long to load, meaning you'll miss out on potential customers who could have been interested in your product or service.
Finally, certain hosting companies are better suited for SEO than others. A company whose primary focus is web hosting will usually offer packages that are more suitable for those who pay attention to the quality of their search engine rankings.
Why are Page Load Times Important for SEO
Let's start by looking at why page speed has become an increasingly important ranking factor in Google algorithm updates. Early on, Google began using the "Time to the First Byte" metric to help indicate how fast a site loads. The longer it takes to load your page, the lower you'll rank in Google, and vice versa.
Google has outlined certain steps you can take to make sure your site loads quickly enough to meet their standards. For example, one way is to minify all of your CSS/JS files (remove "weird" characters like spaces) before uploading them to your server. You can also set up Gzip compression, a method to "shrink the size of HTML, CSS and JavaScript files before they're sent from your server."
There are also certain hosting companies that have taken strides to become known as industry leaders in web performance. These performant web hosts include Rackspace Cloud Hosting, Kinsta Hosting and WP Engine.
Ways to Improve the Speed of Your Site
Create a Minify CSS/JS File
Minifying your CSS and JS files (removing "weird" characters like spaces) before uploading them to your server is an important step for making sure your website loads quickly enough to meet Google's standards.
Set up Gzip Compression
Gzip compression, a method to "shrink the size of HTML, CSS and JavaScript files before they're sent from your server," can be used on its own or in conjunction with minification.
Use Content Delivery Networks (CDNs)
A CDN is an internet service that delivers web content on servers located near the intended recipient, reducing latency time. They act as an intermediary between the host server and the user-agent—a browser like Chrome, Firefox or Safari—to provide faster delivery and lower bandwidth costs. Google recommends using a CDN provider to improve your site's performance in search engine rankings.
Choose a Web Host Who Specializes in Performance
Companies who specialize in web hosting usually offer packages designed for those who pay attention to the quality of their search engine rankings. Test them out to see if they live up to their claims of high performance.
Don't Overstuff Your Site with Plugins and External Scripts
If your site is bloated with too many external scripts and plugins, it's going to take a long time for your pages to load because the browser has that much more code to load before reaching the content. This might seem like a small issue, but every little speed increase will help when it comes to SEO.
Web hosts with expertise in fast web page loading times are ones who acknowledge the importance of page load speeds and make designing for speed a priority from the beginning. In addition to these companies, popular hosting providers that have made strides to become known as industry leaders in web performance are also worth testing out.
Tips for Choosing a Web Host
Web hosting can be a difficult choice because there are so many different options. One of the most important things you should think about when choosing a web host is what kind of speed they provide, and how it effects SEO.
The three main factors that determine your page load time are: total loading time, number of requests, and server response time.
Total loading time: the amount of time it takes for your browser to request and receive all the assets on a web page. This includes pages images, style sheets, and scripts.
Number of requests: the number of times your browser has to make a request for assets like images, style sheets and scripts. The more asset requests that need to be made, the slower the page speed.
Server response time: the amount of time the server takes to respond to your request for a file on a web page. The larger and more complex a website is, the slower this process will be.
The best way to improve load times is by reducing both number of requests and total loading time as much as possible, while also mitigating the amount of time it takes to respond to requests.
Conclusion
Web hosting is the backbone of your website. It's how visitors are able to find you online, see what you have for sale or buy something from you with ease. Better web hosting translates into better rankings in Google and other search engines which leads to higher visibility and more customers coming through your doors- it's as simple as that! You can buy website visitors from us to stress test your web hosting and also get lots of traffic exchange users to your site!
Filed under: Tips & Tricks

---