Top Five Reasons Why You Need a Good Landing Page for Your Website
Tuesday, August 23rd, 2016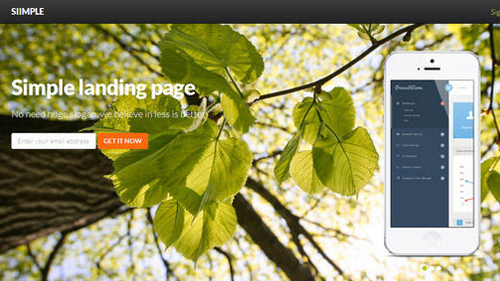 With a lot of content displayed on different websites, it can be hard for people to read a whole page to find what they are looking for in the shortest time possible. However, with a landing page, you are more likely to increase traffic to your website and increase sales. The following a top 5 reasons why you need a good landing page.
Know more about your potential clients
A landing page is the first display that customers see immediately they click on the link provided by your online ad, follow a search engine or email promotion. The landing page is an extension of these ads and is designed specifically to generate interest and persuade the visitor to take the desired action. Apart from being used with email advertising, landing pages are also used with forms of online lead generation advertising such as search engine ads, social media ads and display ads; providing a wider avenue for you to know more about the needs of your visitors.
Creates leads
When a searcher types in their query to the search engines and clicks on your link, they want to be taken to a page that helps them find the answers they are seeking. A good landing page will help your target audience locate the answer or product they are seeking, therefore, turn potential visitors into leads.
Creates relevance
A good landing page is relevant. You only have a few seconds to lure users to your website, so when potential customers arrive at your site, ensure that the information on your landing page is related to their search and the ad they clicked. Additionally, relevance is not only important to the searcher, but also to search engines such as Google, which uses relevance to determine quality score. Therefore, if your landing page is relevant, you are more likely to establish credibility and thus increase your website visibility.
Builds trust
A good landing page builds trust. It is essential to have trust with potential customers as soon as they click on your web page. Your visitors will want to know they can get the solutions they need. Therefore, a good landing page provides what the ads promises, it provides what the user wants, and it provides what the user expects to see. In the process, the bond created with your customers can be used to promote your other product or services.
Answers question
A good landing page answers the searcher's question. It's important to recognize what the searcher is looking for so that you ensure your page provides that information.  If your page addresses their query with in-depth information, they are more likely to refer and share your web page link with other people in social media thus increasing traffic to your website.
The main aim of a landing page is to reinforce the ideas or offers that you present to potential customers in your online ad, marketing email or direct mail package. Therefore, you need a good landing page, which will make it easier for customers to take an action either to make a purchase from you or to convince them that they are on the right page. In the process, you will be able to convert the traffic into leads.
Receive millions of social media traffic now with 10KHits! Sign up to 10KHits here.
Filed under: Tips & Tricks
Tags: good landing page, landing page, landing pages, top
---