A Few Tips For Effective Email Marketing
Saturday, May 30th, 2015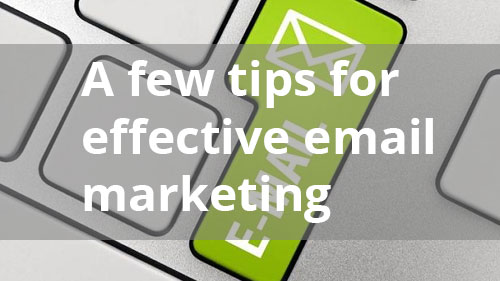 Email marketing may be an old player in the digital world but it has not yet lost its charm. If used effectively, it can work wonders in driving sampling for your brand. The trick is to not use mass email but try and customize communication and segregate and send it to different mailing lists.
Let us look at a few more tips that can help marketers achieve success in their brand communications using the simple old email.
Keep it simple. The old adage works here like nowhere else. In order to ensure effective email marketing, it is important to keep the experience of the user as simple as possible. This will help you to increase the conversions possible by your emailer. The call to action should be clear, easy to understand and evident. It should be visible in a prominent manner. It should be very very clear to the person who gets your email as to what he has to do next or what is expected out of him.
Send your audience communication that is customized to them. For this, you need to track the actions of your consumers. This will help you to segment and divide them correctly. You can also identify different sets of triggers for different sets of audiences. You do not have to depend on a single subscriber form to give you all the details as it used to work out earlier. You have to send your audiences emails as per their individual actions that have taken place on your website. This will make the customer feel that you are talking to him specially and hence it will aid in higher results for your product/service sales.
The subject line is vital when it comes to an emailer. Face it! The subject line is the first thing that any consumer notices. If it is not interesting enough, it probably will be the only thing he notices about your email and it will end up straight in his trash can or spam folder. The subject line has to be interesting, relevant and intriguing enough for the person to actually click on it, open the emailer and see. Interesting does not mean long! It is a subject line and not a blog. Keep it short, crisp, concise and unique and the person is sure to click on it to explore further.
It is important that you keep the flow of emails constant. To expect miracles to happen by sending just one email is foolish. You need to send a series of emails to your customers if you are actually serious about wanting them to take some action by reading your emails. Two things have to be kept in mind while sending multiple emails. Make sure you have the user's permission to send him emails. Send relevant but different content in each email. If you are going to send the same thing again and again, you will most likely end up being reported as spam. You have to be tactical about this and send them the right thing at the right time.
Email marketing is a good tool to add to your marketing mix. Make it work for you. Do not under-estimate its power.
Are you in need of website traffic to your website or business? Receive free website hits to your site today by signing up to 10KHits!
Filed under: Tips & Tricks
Tags: 10khits, email list, email marketing, email tips, marketing, newsletter, online marketing
---