15 Ways to Use Push Notifications for Your Ecommerce Business
Thursday, June 2nd, 2022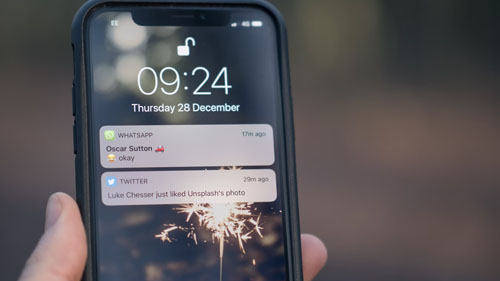 Push notifications are the little messages that pop up on your phone or computer screen, asking you to come back and check out something new. They're an effective way for ecommerce businesses to get their customers' attention and bring them back into the site.
It's important to note that push notifications aren't just for big companies with huge budgets; they can be used by smaller stores as well! Here are 15 ways you can use push notifications in your business today.
1) Keep Customers Updated About New Arrivals: With custom alerts, ecommerce brands can send a message when there is a new arrival of products so shoppers know it's time to refresh their favorites list. This not only attracts loyal customers but also brings in potential new customers who may have been unaware of the product's addition to the site.
2) Build A Relationship: If this is your first push notification campaign, consider sending out messages that allow the customer to learn more about your brand. These can be fun and engaging, with the goal being to build a relationship with your customers. For example, if you're selling clothes for kids, you send out a notification about the latest trends in children's clothing to get them interested and coming back into your site.
3) Appointment Reminders: Businesses can use push notifications to remind customers about upcoming appointments or events. This will not only ensure the customer doesn't forget, but also creates an opportunity for them to save time by being reminded of any necessary prep work they need to complete before the appointment.
4) First-Time Buyer Promotions: Push notifications are a great tool for businesses looking to reach first-time buyers. Whether it's offering existing customers free shipping on their first order, or giving them access to favorite products at 20% off, these messages can be highly effective in bringing back repeat business.
5) Splashy Sales: Push notifications can be a great way to advertise sales. One of the best things about this method is that customers who are not already following your social media accounts will still see the promotion.
6) Coupon Codes: Use notifications as a reminder for coupon codes, which can be an effective way to attract new customers and remind existing ones about your latest promotions.
7) Surprise and Delight: Push notifications can be a great way to target a specific customer. For example, a mom with two children looking for supplies for her kids is going to be delighted by a notification from an arts & crafts store reminding her about a promotion on children's products.
8) Get Social: If you already have a social media presence, then it's likely that you can find followers who also use push notifications, and vice versa. Send out messages to your customers through both social media and push notifications to get the word out about new arrivals or sales.
9) Seasonal Sales: Retailers can take advantage of seasonal sales by pushing out promotional messages that highlight the latest deals on products related to specific seasons. For example, in the wintertime, a ski store can send out messages about great deals on warm coats.
10) Promotions for Existing Customers: ecommerce retailers can also use push notifications to reach out to existing customers about new promotions or sales they are running. This is an effective strategy for brands who already cultivate relationships with their customers and want to engage them beyond social media.
11) Brands That Promote Themselves: If you're looking for ways to promote your brand, try pushing out messages through push notifications. It's important to note that you don't want it to seem like you're spamming your customers, but rather engaging them in a way they appreciate and want to continue receiving.
12) Introduce New Products: Finally, brands looking to promote one of their newest products or collections can send out push notices about new arrivals, as well as encourage customers to look at other items from the collection.
13) Special Promotions: Anytime a brand wants to run a special promotion, they can use push notifications for this purpose. For example, you can offer early access to sales or discounts if a customer subscribes to your messages, or allow them first dibs on new arrivals.
14) Holiday Reminders: New Year's Eve, Memorial Day, 4th of July.. there are plenty of holidays throughout the year that brands can use push notifications to celebrate with their customers. Keep your customers informed about events and sales related to the holiday. Of course, you'll want to offer discounts or other incentives that encourage them to shop.
15) Follow-Up Campaigns: While sending out your first few push notifications may seem like enough for a campaign, you can actually use this platform throughout the year in order to follow up with customers who haven't bought anything lately or haven't yet subscribed to your messages. This allows eCommerce retailers to market their latest arrivals to those who haven't yet seen them.
Push notifications are a free way to reach your customer's phone or web browser and remind them about an upcoming sale or new arrival. It's a great marketing strategy that should be added to your marketing plan as a free website traffic generator. They can be highly effective in bringing back repeat business, but only if they're done right. The following 15 ways outlined above will teach you how to use push notifications for eCommerce businesses that want to engage with their customers more effectively!
Filed under: Tips & Tricks

---